Our Summer 2018 Theme is "20th Century Time Bandits"!   Students will be exploring a different decade from the 20th Century each week. We'll be exploring the history, science, culture of each decade. It means we will be writing songs and skits, creating art, conducting experiments, taking field trips, inventing games, building projects, and having a lot of fun! For ages 5-12!
 Sites:

Bandelier Elementary
Sombra del Monte Elementary
Inez Elementary
North Star Elementary
Double Eagle Elementary
Price Options:
Summer Core Program
Early Bird deadline:  April 13th   by midnight

3-Day Option  $115/week
5-Day Option  $135/week

After April 13th:

3-Day Option  $125/week
5-Day Option  $145/week
Enrichment Camps
$174/week (Early Bird Registration before 4/13/18)
$184/week (After 4/13/18)
If you have a CYFD contract- Enrichment Camps cost $40 per camp, in addition to your monthly co-pay.
Action Arcade Rusty Rutherford

July 16-20 • Ages 6-8
July 23-27 • Ages 9-12
Play live action video games, star in your own action movies, create your own music video and get a DVD of your videos to share with your friends!

Trashion Show: Creating Wearable Art Lila Martinez

July 23-27 • Ages 6-8
July 30-August 3 • Ages 9-12
Learn the basics of design, sketching, and hands-on techniques to work with recycled materials to design a garment and debut it in a fashion show for family and friends.

Art Kendyl Tucker

June 18-22 • Ages 6-8
Explore the magic of colors, textures and different kinds of paper folding to create beautiful pieces of art.

Weird Science Britt Portman

July 9-13 • Ages 6-12
Join this exciting camp and experience rainbow tubes, vortex rings, boo bubbles, polymers, slime, dry ice investigations, and more surprises!

Theater Heather Yeo

June 4-8 • Ages 6-8
Unleash your imagination and harness your inner super-stars, make your own costumes and props and perform an original play.

Cooking Kendyl Tucker

July 16-20 • Ages 9-12
Show off your amazing cooking skills and learn a few new tricks. Add to your recipe box and learn how to create a complete meal.

Film Chris Walsh

June 25-29 • Ages 9-12
Make a short film everyday, while learning to act, direct, film, and edit.

Sports Angela McBride

June 11-15 • Ages 6-8
June 18-22 • Ages 9-12
June 25-29 • Ages 6-8
Learn the rules and fundamentals of a variety of sports: basketball, volleyball, baseball, soccer, and football.

Harry Potter Heather Yeo

June 11-15 • Ages 9-12
Leave your Muggle ways at home and come unlock all the secrets of Hogwarts!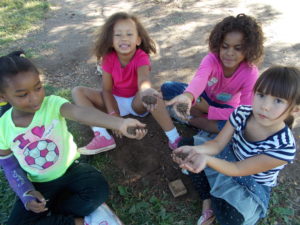 Hours:
We are open Monday through Friday from 7am-6pm.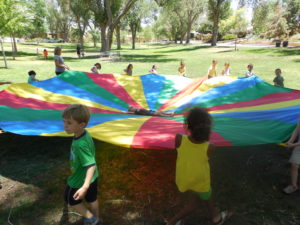 We will be closed July 4th and Memorial Day.
You are welcome to bring your child to their summer program at any time. However, pay close attention to the Weekly Activity Calendar so they don't miss out on great field trips or other fun activities!
Schedule:
During the morning and afternoon, our program is a mixed-age group. For the bulk of the day, children are divided into "cabins" based on their age.
Typically, children will either go swimming or enjoy water play twice a week. Additionally, children will enjoy weekly and/or biweekly field trips at no additional cost. Curriculum is theme-based and created by our staff and children ahead of time. Weekly Activity Calendars will be available for parents on site.

Snack and Lunch
We provide a morning and afternoon snack. Each child needs to bring a sack lunch every day that does not require refrigeration or heating. Sombra del Monte and Inez will be participating in the City of Albuquerque Free Lunch Program- beginning June 4th. You can sign up on-site.