Hours of Operation
Hours of Operation:
Before-School Program (where applicable):
6:30AM - until school begins.
After-School Program:
school dismissal - until 6 PM.
Full-Day Program:
7AM - 6PM.
Full-Day Programs will be offered at select schools during the winter, spring and summer vacations, conference weeks, teacher in-service days, Martin Luther King Day, and Presidents Day.
We are closed
January 1
Memorial Day
July 4
Juneteenth
Labor Day
Thanksgiving
the day after Thanksgiving
Christmas
Christmas Eve (when these days fall on a weekend, we will observe the holiday on the same day as the federal government).
Snow Days/Emergency Closing: Children's Choice will follow the decision and schedule of APS on snow days. When school is delayed or canceled because of snow or other emergency, Children's Choice school-age care is not available.
Rates
Sibling Discount given for 2nd and subsequent children.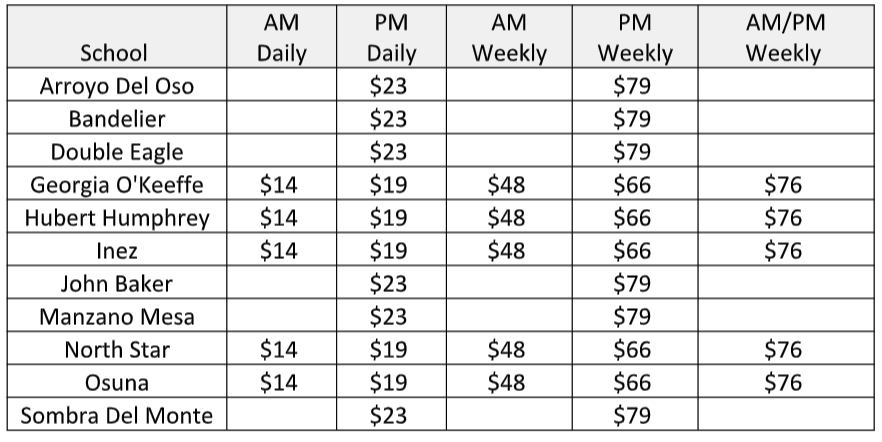 If your child is already registered and you need to cancel or make a change to their current attendance, please email your request to welcome@childrens-choice.org
Activities: What do Children's Choice kids get to do?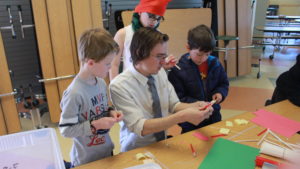 We offer a variety of activities for children to CHOOSE from that are fun and educational.
There are a mix of child-directed activities, staff-facilitated activities, clubs, enrichment classes, field trips, presentations,
special events, and snacks.
Activities are planned in advance and outlined on an activity calendar. These calendars can be found online or at the parent table of child's school.
CHILD-DIRECTED ACTIVITIES
Children can CHOOSE from a variety of child-directed activities - open-ended activities that require little or no help from adults. Each day the activity area is transformed into a model environment, which includes child-directed interest centers:
• a quiet home-like area - appropriate for relaxing or doing home work
• a fine motor skill area - each week a new manipulative (legos, lincoln logs, k-nex, bristle blocks, marble tracks, and many more).
• an art area - artsy arts and crafty crafts (playdough, markers, stencils, stamps, glue, beads, and many more).
• dramatic play area - each week a new theme (restaurant, hair salon, construction, grocery story, firefighters, and many more).
• a strategy games area - dice, card, and board games for all age levels that promote math and strategic thinking.
• snack area - multiple CHOICES and always self serve, family-style, and all you care to eat.
STAFF-FACILITATED ACTIVITIES:
As if that wasn't enough, we plan a variety of staff-facilitated activities to CHOOSE from - activities which require adults to help lead the club. Some examples of staff-facilitated activities are active games, team sports such as soccer or softball, other activities such as a cooking or sewing project, or a more complex art project.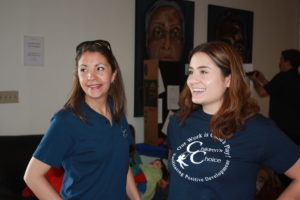 Clubs:
Clubs are special-interest groups that children may CHOOSE to join which require significant teacher facilitation. Some examples of club themes are science, drama, journalism, fitness, Spanish, cooking and the environment.
Enrichment Classes:
Classes are taught by instructors who have expertise in the class topic. Classes are free to children enrolled in the program on the day the class is held, and children not enrolled in the program may sign up to take the class for a tuition fee. The number and type of classes to CHOOSE from varies from site to site. Examples of enrichment classes are ballet, stop-animation, sculpting, karate, brass instruments, photography, French, and science.
Download the Parent Manual.